Discover what's 

NEW

 at the Hiller Aviation Museum.
GET 20% OFF ADMISSION THIS WEEKEND
Check out our new Drone Plex. Fly an FAA-approved flight simulator. Sit at the controls of a real Boeing 747. Explore the expanded STEM Invention Lab. And so much more. 
From Wright Brothers to drones, Hiller Aviation Museum is fun for the whole family!
Don't miss this limited time, online only offer.
Discover the fun and challenge of drone flight!. Observe drone demonstrations, take the controls of a realistic drone simulator and pilot an actual drone in the Drone Plex flight center during Try and Fly. Expand the experience and take a purchased aircraft home at Buy and Fly sessions!
Demonstrations, Flight Simulation and Try and Fly included with Museum admission. Drones available for purchase during Fly and Buy. Space is limited, so buy your museum admission now.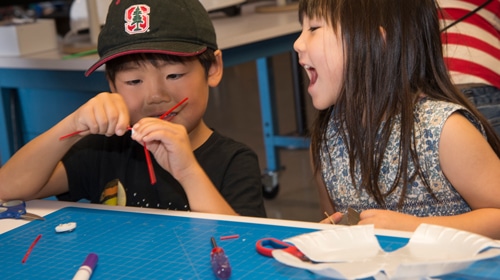 This "mini makers lab" has new hands-on activities for kids, exposing them to STEM in a fun and engaging way. Here they can use the tools of science to explore aviation, aerodynamics, engineering, assembly, and design. From paper airplane designs to wind tunnels that help make air streams real…and fun…our experiments make science engaging and memorable. The Invention Lab is a great destination for older children and adults and is open every weekend from 10:30-4PM…and it's FREE with museum admission.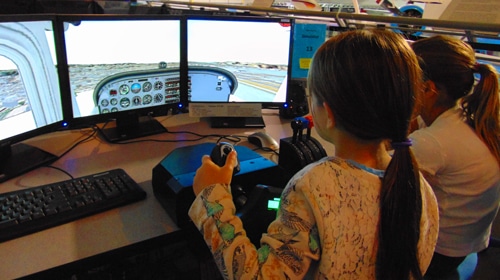 In the Flight Sim Zone, take a virtual flight across the Bay and see the world from the unique perspective of a pilot. Real pilots will show you how to control a Cessna 172, including landing procedures. Once you're ready, you'll learn more advanced flying: cross-country flight, multi-engine procedures, bad-weather flying and more.
To join us in the Sim Zone (every weekend, 11AM – 2PM), just get your museum admission online and then buy a $4 flight pass at the gift shop. (Free for Museum Members). Each pass is good for 30 minutes of flight time and can be shared by a pilot and co-pilot. Seating is limited, so get your pass as soon as you arrive.
Fly with a pilot instructor in an FAA approved full-motion flight simulator, the kind typically seen only in-flight schools and training academies used in real world flight training. The cockpit is fully functional, and the sensations of flight are amazing. This is the most realistic experience possible short of flying a real airplane! After you buy your ticket online, just pick up a flight pass for $10 at the gift shop ($8 for Museum Members).
Kids can put their building skills to work in the Imagination Playground, explore interactive displays and airplane cockpits, view flight videos, observe real airport operations, and more.
It's more than a museum — it's a day of fun for children of all ages!
Location
Hiller Aviation Museum
601 Skyway Rd.
San Carlos, CA 94070
(650) 654-0200
Hours
10 am – 5 pm, 7 days a week
Closed Easter Sunday, Thanksgiving Day and Christmas Day.