May
20
Sat
2023
FMX Flight Simulator
May 20 @ 11:00 am – 2:00 pm
Hours:  Saturday & Sunday, 11 am – 2 pm
Purchase your flight ticket at our gift shop.
$10 for 10-minute flight.
$8 for museum Members.
Additional discounts offered to Museum members at the Pilot, Barnstormer, and all Premium levels.
Fly with a pilot instructor in an FAA approved full-motion flight simulator, the kind typically seen only in flight schools and training academies used in real world flight training. The cockpit is fully functional and the sensations of flight are amazing. This is the most realistic experience possible short of flying a real airplane!
This is a 10-minute flight that gets you into the fun and challenge of aviation. Put your feet into the rudder pedals, take the controls and get ready to fly! Accelerate down the runway at San Carlos Airport and lift off in your Cessna 172. Climb out over the Bay, maneuver in the traffic pattern and then land at San Francisco International Airport.
The FMX flight simulator's fully functional cockpit features the latest in "glass cockpit" avionics technology, the Garmin G1000, including a Primary Flight Display (PFD) and Multi-Function Display (MFD) with integrated autopilot.
6 screen "wraparound" windshield display.
Full simulator movement in yaw, pitch and roll.
Force feedback flight yoke and throttle quadrant.
Rudder pedals.
Simulation software: Lockheed Martin Prepar3D.
Invention Lab
May 20 @ 11:00 am – 3:00 pm
INVENTION LAB OPEN WEEKENDS
Activities Available 11 AM - 3 PM Saturdays & Sundays
Also Open Monday, May 29
Included with Museum Admission
Complete amazing hands-on projects in flight!
Weekend Invention Lab Activities
May 6-29
Build-an-Airplane
Use kid-sized fun tools to bolt together and then disassemble a whimsical table-top airplane!  Recommended ages 2-7.
Welcome to Sector 33
Use a unique Air Traffic Control simulation developed by NASA to guide airliners through a checkpoint and on to their destination.  Recommended ages 8+.
Museum Closes Early for Private Event
May 20 @ 4:00 pm – 5:00 pm
May
27
Sat
2023
Drone Plex
May 27 @ 11:00 am – 3:00 pm
Every Saturday and Sunday
Regular Schedule
Saturdays & Sundays
11:00 am – 3:00 pm
Also open select weekdays 11:00 am – 3:00 pm December 26 & January 2
Drone Demonstrations and Drone Simulation
All Drone Plex activities included with Museum admission.
Demonstrations suitable for all ages.  Children must be 5 years of age or older to use drone simulators, and 8 years of age or older to fly drones.  All children must be accompanied by an adult.
Open only when Hiller Aviation Museum open to the public.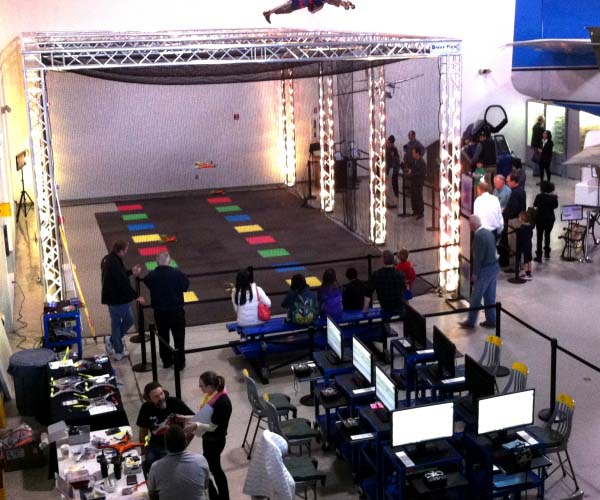 Drones are one of the most significant advances in aviation of the 21st century. Observe flight demonstrations conducted in a safe arena with an instructor who will show you techniques for safe drone piloting, including rules, regulations and "do's and dont's" practices for responsible drone flight.
Discover the fun and challenge of drone flight!. Observe drone demonstrations and experience the adventure of autonomous aviation!
Flight Sim Zone
May 27 @ 11:00 am – 2:00 pm
Open Saturday and Sunday, 11:00 am – 2:00 pm
Also Open Monday, May 29
Take a virtual flight across the Bay and see the world from the unique perspective of a pilot.
Pass Required.
$5 per Pass (in addition to museum admission).
Pass is free for Members.
Two people can fly on one Pass (pilot and co-pilot).
Obtain Passes at museum Gift Shop.
Each Pass good for up to 30 minutes of flight time.
Seating is limited.
Flight Sim Zone workstations consist of the following:
large 4K screen, 3,840 x 2,160 pixel display
Logitech/Saitek flight yoke and throttle quadrant
Saitek rudder pedals
X-Plane 11 simulation software
How Sessions Operate
We follow a flight instruction model. Each session begins with an introductory demonstration.  Our instructors are real pilots and they will show you how to properly control an aircraft, like the Beechcraft Baron 58, including the all-important landing procedure. Once proficiency has been achieved in basic procedures, enjoy a sightseeing flight around the Bay!
The Flight Sim Zone is wheelchair accessible.