Dec
16
Sun
2018
Imagination Playground
Dec 16 @ 10:00 am – 5:00 pm
Drone Plex – AM
Dec 16 @ 10:30 am – 12:30 pm
Every Saturday & Sunday
10:30 am – 12 pm (demonstration / simulation – no additional ticket required)
1 pm – 3 pm (Flight Experience – additional ticket required)
Flight Experience for Ages 8 and up

Purchase Flight Experience tickets at Museum gift shop:
$5 for 25-minute experience.
$4 for museum Members.
Available 10:30 am – 11 am and 1:30 pm – 3 pm on May 13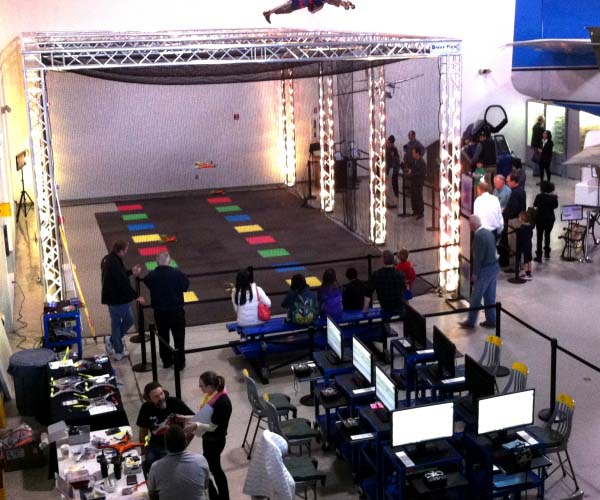 Drones are one of the most significant advances in aviation of the 21st century. Get a "taste" of flying them in a safe arena with an instructor who will show you techniques for safe drone piloting, including rules, regulations and "do's and dont's" practices for responsible drone flight.
Discover the fun and challenge of drone flight with instruction. Each 20-minute Flight Experience program includes:
Preflight briefing
Practice with a drone flight simulator
Flight time with a real quadcopter within the Drone Plex
Invention Lab
Dec 16 @ 10:30 am – 4:00 pm
Saturday and Sunday, 10:30 am - 4:00 pm Included with Museum Admission
Weekday Holiday Schedule
  11:00 am - 4:00 pm December 20-21, 26-28, 31, 2018
  11:00 am - 4:00 pm January 1-4, 7, 2019

Invention Lab Holiday Schedule
Thu-Fri.
Dec 20-21
11 am – 4 pm
Wed-Fri
Dec 26-28
11 am – 4 pm
Mon-Fri
Dec 31-Jan 4
11 am – 4 pm
Mon.
Jan 7
11 am – 4 pm
Use tools of science to explore aviation, aerodynamics, engineering, assembly and design. Perfect for older children and adults.
Current Invention Lab Activities
December 8-23, 2018

3D Printers and Holiday Ornaments (Ages 3+)
Use CAD software to create a personalized holiday ornament, then print the design on a 3D printer!
Program is included with museum admission and no advance registration is required.  Facilitators will be available to help throughout the process.  Recommended for ages as indicated for the activities above.