Oct
9
Sat
2021
Drone Plex
Oct 9 @ 11:00 am – 3:30 pm
Every Saturday and Sunday
Regular Schedule
Saturdays & Sundays
11:00 am – 3:00 pm
Drone Demonstrations and Drone Simulation
All Drone Plex activities included with Museum admission.
Demonstrations suitable for all ages.  All children must be accompanied by an adult.
Open only when Hiller Aviation Museum open to the public.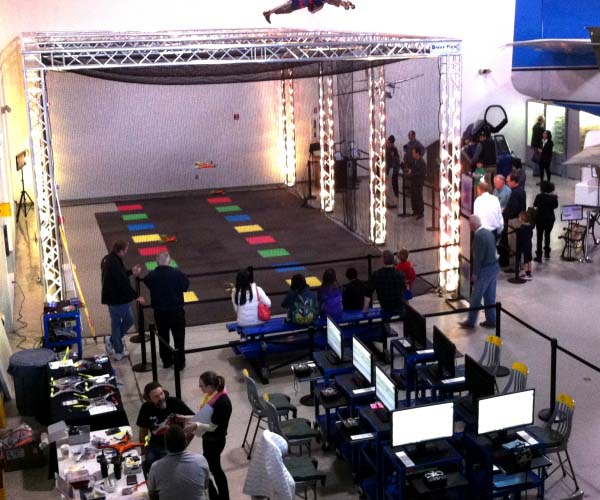 Drones are one of the most significant advances in aviation of the 21st century. Observe flight demonstrations conducted in a safe arena with an instructor who will show you techniques for safe drone piloting, including rules, regulations and "do's and dont's" practices for responsible drone flight.
Discover the fun and challenge of drone flight!. Observe drone demonstrations and experience the adventure of autonomous aviation!
Flight Sim Zone
Oct 9 @ 11:00 am – 2:00 pm
Open Saturday and Sunday, 11:00 am – 2:00 pm
Also Open

    Monday, September 6, 11 am – 2 pm (Labor Day)
Take a virtual flight across the Bay and see the world from the unique perspective of a pilot.
Pass Required.
$5 per Pass (in addition to museum admission).
Pass is free for Members.
Two people can fly on one Pass (pilot and co-pilot).
Obtain Passes at museum Gift Shop.
Each Pass good for up to 30 minutes of flight time.
Seating is limited.
Flight Sim Zone workstations consist of the following:
large 4K screen, 3,840 x 2,160 pixel display
Saitek flight yoke and throttle quadrant
Saitek rudder pedals
X-Plane 11 and Prepar3D v.4 simulation software
How Sessions Operate During COVID-19
We have reduced the number of available simulators in each flight session to obtain social distancing.   Initial instruction is provided via pre-recorded video.  All stations, flight yokes and throttles are disinfected and idled for 90-minutes before reuse.  We follow a flight instruction model. Our instructors are real pilots and they will show you how to properly control an aircraft, including the all-important landing procedure. 
The Flight Sim Zone is wheelchair accessible.