When:
March 6, 2016 @ 1:00 pm – 4:00 pm
2016-03-06T13:00:00-08:00
2016-03-06T16:00:00-08:00
Event Schedule

Sunday, October 14, 1 PM – 4 PM
Loop-the-Hoop
Sunday, November 18, 1 PM – 4 PM
Relay Race
All competitors must be at least 8 years old to fly at the Drone Meet.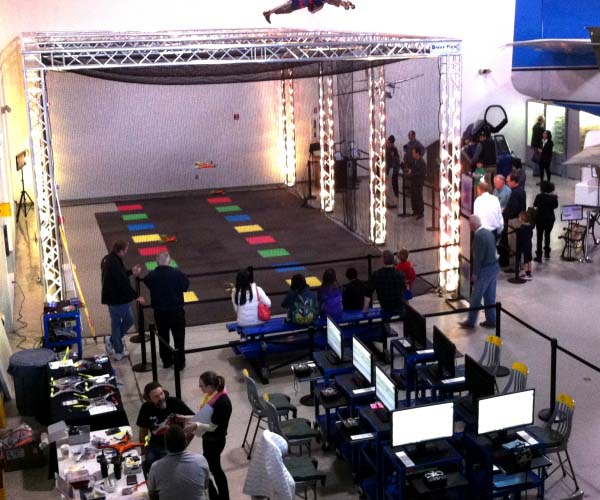 Fly a multi-rotor drone in one of several different skill-specific competitions held in the Hiller Aviation Museum Drone Plex.
Join a Drone Competition!
Fly with the best of the best in a thrilling series of multirotor competitions.  Each Drone Meet event focuses on a different skill in quadcopter flight, and utilizes the Hiller Aviation Museum's Drone Plex facility.  Drone Meet events include:
Preflight briefing
Practice with a drone flight simulator
Competition using a Museum-provided Drone appropriate for the event
Each Drone Meet features rounds at 1, 2 and 3 PM.  Events are included with Museum admission, but space for each round is limited.  Competitors must register at the Invention Lab (10 AM – 1 PM) or Drone Plex (1 PM – 4 PM) on the day of competition.
Event Descriptions
Precision Landing:  Master low-speed hovering and precise multirotor flight.  Practice landing on a designated target, then complete by flying to and landing within the smallest possible distance from the target in the time available!
Loop-the-Hoop:  Take on the challenge of flying up to, around and through an obstacle!  Learn the maneuvering needed to pass safely through a target loop, then race the clock to cleanly fly a loop routine in the shortest possible time!
Relay Race:  Fly like the air racers of old, completing a circuit around pylons spaced around the Drone Plex.  Fly in teams to complete the race without crashing ahead of the competition!