Hands on fun with drones, makers lab and more!
Come discover the NEW Hiller Aviation Museum, now with more hands-on fun for the whole family. Check out our new Drone Plex! Try out our FAA-approved flight simulator. Sit at the controls of our real Boeing 747 and let  your imagination run wild in our expanded Invention Lab. From the Wright Brothers to rockets, biplanes to drones, we are where inspiration takes flight.
Daytime admission, only.
Not valid for evening events, Oktoberfest or other special events.
Drone flight demonstration. Saturday and Sunday, 10:30 AM, 11:30 AM & 1:30 PM
Drone Simulators. FREE every weekend (included with museum admission)11 AM & 2 PM
Fly a nano drone. Weekends 12 PM & 2:30 PM (additional pass prices vary)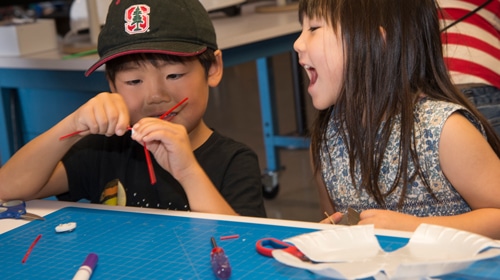 It's Science, Technology, Engineering and Math (STEM) in action!
Explore aerodynamics, engineering, assembly and design
Weekends 10:30-4pm (Free with museum admission)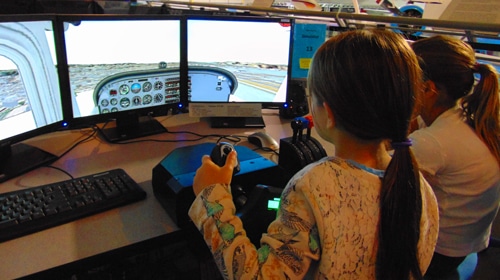 Boeing 777, Helicopter, and Wright Flyer simulators. Available every day for free (with museum admission)
Experience the Flight Sim Zone with 12 stations and hands-on, pilot led instruction. Weekends 11am-2pm ($4 additional pass)
PLUS: The FMX Flight Simulator is a FULL MOTION flight simulator — usually only found in flight schools! Pilot a plane using a fully-functional cockpit. Weekends 11am-2pm ($10 additional pass)
Kids can put their building skills to work in the Imagination Playground, explore interactive displays and airplane cockpits, view flight videos, observe real airport operations, and more.
It's more than a museum — it's a day of fun for children of all ages!
Location
Hiller Aviation Museum
601 Skyway Rd.
San Carlos, CA 94070
(650) 654-0200
Hours
10 am – 5 pm, 7 days a week
Closed Easter Sunday, Thanksgiving Day and Christmas Day.