Thank you to everyone–runners, walkers, strollers, volunteers, and sponsors–who participated in the 3rd Annual Airport Runway Run at San Carlos Airport!
Express your need for speed with a unique 2K/5K/10K running event that's fun and healthy for the whole family.
The start of the race route is the San Carlos Airport runway! Like an aircraft on takeoff, you will traverse the length of the entire 2,600 foot runway before continuing through the beautiful wetlands on Bair Island, then return to the airport and conclude at Hiller Aviation Museum. This is one of the most interesting and beautiful running, jogging, and walking experiences in the Bay Area, with courses that extend through San Carlos and Redwood City.
Proceeds of the Airport Runway Run benefit Hiller Aviation Museum, a 501c3 nonprofit educational organization that provides science and aviation programming. 
5K Course Note: Our deepest apologies that our 5K course turnaround was placed 7/10ths of a mile short of the intended location. We appreciate your understanding and have put procedures in place to ensure that we don't fall short again.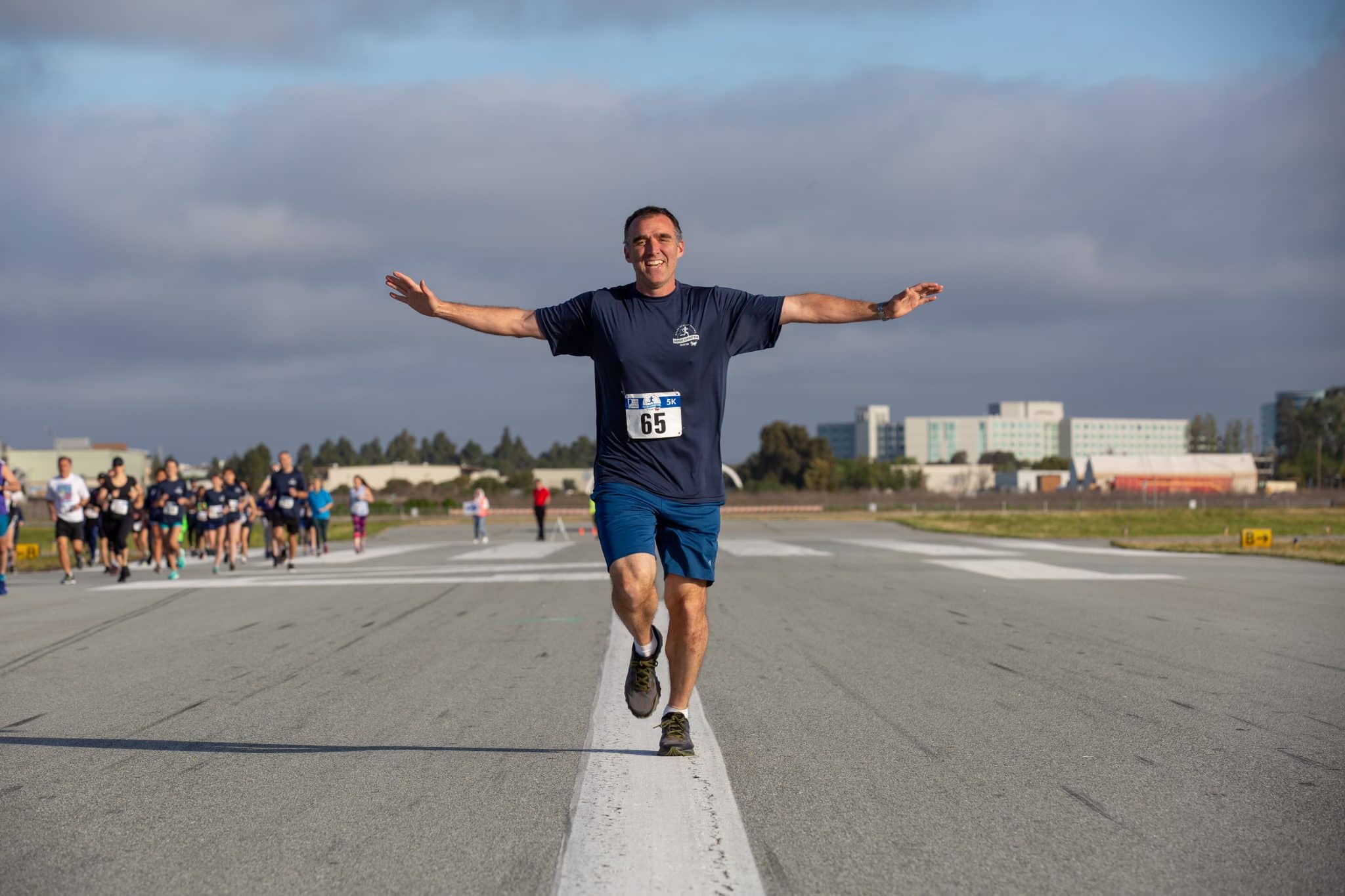 Props to our volunteer photography crew! Thank you! On the runway: Sagar Pathak and Hayman Tam. In the air by drone: Thomas Yarbrough.
Rules
Runners and walkers only permitted on the course. Strollers ok. No pets, skateboards, bikes, or rollerblades permitted.
Walkers, please start at the back of the pack. On Skyway Road, walkers, stay to the right on the sidewalk. Runners, pass on the left.
Entry fees are nonrefundable. If you are unable to participate, you may transfer your registration to another participant.
Advanced Packet Pickup
Highly Recommended!
Saturday, April 13
10 am – 2 pm
Sports Basement
202 Walnut St., Redwood City, CA 94063
Located right off 101 between Whipple and Woodside exits
Participants will receive 20% off all in-store purchases* during packet pickup hours!
*some exclusions apply
Courses
All three courses start and finish at Hiller Aviation Museum.
The 5K and scenic 10K are run-out and run-back courses with turnarounds that will be clearly marked.
The 2K Family Fun Run is a loop on the runway and taxiway.
5K/10K Awards
Prizes for the overall men's and women's first place winners of the 5K and 10K:
A $125 gift certificate to Sports Basement,
A one-year Individual Museum Membership, and
Your Name on the Museum's Highway 101 LED Marquee the day after the race!
1st place male and female in each age division of the 5K and 10K will receive a sample of Astronaut Food. 
1st, 2nd, and 3rd place male and female in each age division of the 5K and 10K will also receive an official Hiller Aviation Museum pin!
5K/10K Age Divisions
     ● 12 and under
     ● 13 – 19
     ● 20 – 29
     ● 30 – 39
     ● 40 – 49
     ● 50 – 59
     ● 60 and up
Practice Runs
Train for the Airport Runway Run! Practice runs will be held at 8 am first and last Saturday of each month. Meet in the parking lot in front of Hiller Aviation Museum. Thanks to Soyeun Choi, attorney-at-law, for hosting these practice runs!
Questions?
Please contact Rebecca Duran at duran@hiller.org or 650-654-0200 x203.