When:
March 6, 2016 @ 1:00 pm – 3:00 pm
2016-03-06T13:00:00-08:00
2016-03-06T15:00:00-08:00
Current Schedule
10:30 am – 12:30 pm
Drone Demonstrations (10:30 am, 11:30 am)
Flight Simulation (10:30 am – 12:30 pm)
Try, Fly & Buy (11:00 am – 11:30 am & 12:00 pm – 12:30 pm)
1:30 pm – 3:00 pm
Drone Demonstration (1:30 pm)
Flight Simulation (1:30 pm – 2:30 pm)
Try, Fly & Buy (2:00 pm – 3:00 pm)
Drone Plex closed November 3 for Drone Rangers and Nano FPV drone build programs.
Demonstrations, Flight Simulation and Try, Fly & Buy included with Museum admission.  Drones available for purchase during Try, Fly & Buy.
Demonstrations suitable for all ages.  Unless otherwise noted, flight experiences recommended for ages 8 and up.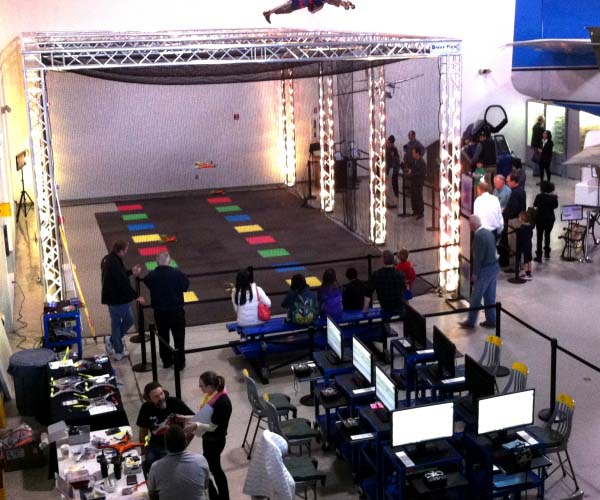 Drones are one of the most significant advances in aviation of the 21st century. Get a "taste" of flying them in a safe arena with an instructor who will show you techniques for safe drone piloting, including rules, regulations and "do's and dont's" practices for responsible drone flight.
Discover the fun and challenge of drone flight!. Observe drone demonstrations, take the controls of a realistic drone simulator and pilot an actual drone in the Drone Plex flight center during Try and Fly..  Expand the experience and take an aircraft home at Buy and Fly sessions!